Signature Generator
Tech: Win32, Borland C++ Builder 5.0, IJG (JPEG loading/saving)
A program I made for my past World War 2 themed gaming clan that generates a forum image signature based on awarded medals and badges. Additionally, it comes with a dogtag generation which generates appropriate dogtag based on several different factors (such as rank, age, join date etc.)
Features:

Custom button/checkbox/radial box interface via GDI
Supports loading and saving of current profile for later use
Supports BMP and JPEG file formats
Customizable via a config file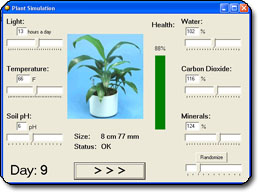 Plant Simulatior
Tech: Borland C++ Builder 5.0
Simple program I have done for my biology project. It simulates the life of a plant (day by day), allowing the user to set the available amounts of water, sun light, minerals etc. The plant grows and responds in a realistic fashion, growing and catching disease, based on a customizable plant schematic.
Features:

Event driven design
Highly customizable via config files
Creates a real time file log
ThreeBlocks
Tech: PHP 5, Flash
A simple PHP template framework for websites, which cleanly separates content from the layout and look. Unlike other CMSes such as WordPress or Joomla, it uses static files (instead of a database) for greater speed and efficiency. This website is powered by it.
Features:

Usage of static files gives far greater performance than any database driven content manager
High customizability via config files allows the framework to be tailored to any needs
Fully customizable look and feel of the website
Support for custom tags on pages
Comes with a streaming Flash-based FLV player